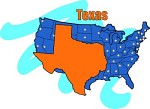 Daily Real Estate News | Monday, July 16, 2012
Texas ranks top as the most affordable housing market in the country, and record low interest rates on loans in recent weeks has pushed affordability even higher in the Lone Star State.
According to the Real Estate Center at Texas A&M University, a home buyer making $37,351 a year could likely qualify to buy a $150,000 home with a 30-year, 80 percent loan with a 4 percent interest rate. The monthly payments would be $572.90. In 1991, however, a home owner would have needed an annual income of $49,023 to qualify for the same loan, which would have carried an average interest rate of 9.64 percent.
"The home purchasing power of a dollar in income increases dramatically as interest rates fall," says James Gaines, research economist with the Texas A&M Real Estate Center. "With an 80 percent loan at 10 percent interest, $1 of income buys about $3 of housing. At 7 percent, it buys $4 of housing. At 4 percent, it buys nearly $5.50."
But while Texas ranks as the most affordable market now, housing experts say other states are gradually narrowing that gap. The national median home price dropped 25 percent from 2006 and 2011, according to Gaines. Meanwhile, Texas' median home prices increased 4 percent in that period. Gaines says that Texas may see a decrease in its affordability as home prices begin to rise faster than incomes in some areas.
Source: Real Estate Center at Texas A&M University