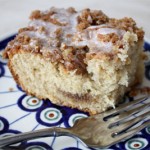 Sherman Breakfast Egg Casserole, Biscuits and Jelly and a delightfully light and tasty Overnight Coffee Cake by Floy at Wednesday's Office Meeting Breakfast . The recipe for the wonderful coffee cake follows.
OVERNIGHT COFFEE CAKE
FLOY JUNG – SHERMAN & CO., REALTORS
¾ cup butter, softened
1 cup sugar
2 eggs
1 cup (8 oz.) sour cream
2 cups flour
1 teaspoon baking powder
1 teaspoon baking soda
½ teaspoon salt
1 teaspoon nutmeg
¾ cup brown sugar, firmly packed
½ cup walnuts, chopped
1 teaspoon cinnamon
In a large bowl, cream together butter and sugar until light and fluffy.
Add eggs, one at a time, beating after each addition. Beat in sour cream.
Sift together flour, baking powder, baking soda, salt and nutmeg.
Add to creamed mixture; mix well.
Pour batter into greased and floured 9 x 13 inch pan.
Combine brown sugar, walnuts and cinnamon; mix well. Sprinkle over batter.
Cover and chill overnight.
Uncover and bake in preheated 350 degree oven for 35-40 minutes or until wooden pick comes out clean.