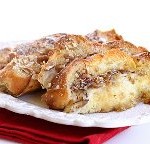 Last Wednesday's staff meeting treat!!!
Overnight Cinnamon Raisin French Toast with Apple Filling
Jana Ghormley Boss
Yield: 12 servings
APPLE FILLING:
2 Tablespoons butter
5 medium Granny Smith apples, peeled cored and sliced
1/4 cup packed brown sugar
3 Tablespoons apple juice
FRENCH TOAST:
16 ounce loaf of sliced cinnamon- raisin bread
3 cups 2% milk
1/2 teaspoon salt
1/2 teaspoon ground cinnamon
10 large eggs
1 Tablespoon butter
2 Tablespoons brown sugar
Directions:
1. Prepare apple filling: Melt butter over medium heat in 12- inch skillet. Add apples and sugar; cook 20 minutes, stirring occasionally. Stir in apple juice; cook 1 more minute.
2. Grease 13 x 9-inch baking dish. Arrange 1/2 of bread slices, overlapping slightly.
3. In a medium bowl, whisk milk, salt, cinnamon and eggs. Pour 1/2 of egg mixture over bread. Set aside 1/4 of apple filling; cover and refrigerate to spoon on after baking. Spread remaining apple filling over bread in an even layer. Arrange remaining bread slices over apple layer. Pour remaining egg mixture over top bread layer. Press bread down with spatula so it absorbs the maximum amount of egg mixture. Dot bread with butter and sprinkle with sugar. Cover and refrigerate overnight.
4. To bake: Preheat oven to 325°F. Uncover dish and bake 50 to 55 minutes or until knife inserted in center comes out clean. Reheat remaining apple mixture in microwave. Spoon over top to serve.
*  variations: I used whole milk & more butter & sugar for the topping. I doubled the cinnamon.  My pan required about 1 ½ loaves of bread . sj