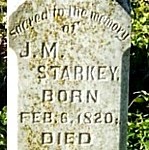 History isn't hard to find in Kerrville and quite often it can be found in the oddest places.
I cannot help but wonder what those buried in the Starkey Cemetery might think if they were to wake and see Kerrville's largest retail store where their fields once stood. The cars would be a puzzle of course, as would the large paved parking lot. And the store building itself would be mind-bogglingly large.
Years ago, as a kid growing up near there, I would cross a drooping wire fence to enter the tangled little cemetery, reading the tombstones there and marveling how old they were. I'm proud that the Starkey family has made the spot so nice with the decorative fence and gate.
I know the stories of a few of those buried in that little cemetery. Perhaps next time you pass the spot you'll think of those resting there.
James Monroe Starkey was born in 1820 in Tennessee; his second wife, Martha, was also born in Tennessee, in 1834. Her mother, Henrietta Rees,
James Starkey had earlier married Elizabeth Young Ridley in Tennessee, and shortly before she died, they had a daughter, also named Elizabeth.
Leaving his daughter in the care of her grandparents Ridley, Starkey became a  Forty-Niner, going with eight friends to the gold fields of California. This group called themselves the "Invincible Eight." 
According to a 1941 article by T. U. Taylor, "After five years of gold digging, James Monroe Starkey took passage by boat for Panama and finally landed at New Orleans."  This was well before Teddy Roosevelt had the canal constructed, so Starkey crossed the isthmus on a narrow-gauge railway, then on by boat to New Orleans, then by stage from New Orleans to the Texas state line.
Starkey made his way from East Texas to what would become Kerr County on the back of a pony named 'Bustamante.'   His dead wife's parents, the George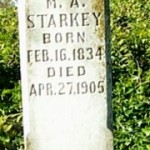 Ridleys, were now in Kerr County, as was his daughter Elizabeth, then 10.
"In Kerr County [Starkey] soon began to clear some land for a crop, and also went into the business of making cypress shingles, which at that time command a ready sale in San Antonio."
Martha, his wife, got to Kerr County when she was 18. Around 1851 "the Widow Rees and her four children" arrived near the site of Bandera. The Indians proved troublesome, so they moved to the valley of the Guadalupe, a few miles from the present town of Kerrville. The "Widow Rees," was Henrietta Rees, who was buried in the little Starkey cemetery in 1882.
Starkey met Martha A. Rees in Kerrville, and on April 3, 1860 they were married. Together they had five children, including Jones Starkey, who died on his sixth birthday, and is buried in the little cemetery near his parents. Alice, the eldest, was a teacher; John James became editor of the Kerrville Times, and quite an expert on local history; Alonzo Lycurgus, who served as county surveyor for nearly fifty years and for whom a local elementary school is named; and Edwin, the youngest, who lived a good bit of his life out of the state.
During the Civil War, Starkey served as "chief justice" of Kerr County, a role similar to today's county judge. During that struggle he was also appointed "enrolling officer" for the Confederacy, and Provost Marshall for the county.
Later, when the county was building its first courthouse in 1876, Starkey was appointed to the committee to oversee its construction.
He also owned and operated a mill with partners Alonzo Rees and Miles Lowrance, near, I suppose, where Starbucks is today.
Martha Starkey was a church leader who helped found the Methodist church here, first at the old Rock schoolhouse, which I believe was at the corner of Main and Sidney Baker, then at the Union Church, and finally at the First United Methodist Church.
James Monroe Starkey died in Kerrville in 1891; Martha A. Rees Starkey, also in Kerrville, in 1905. Among her last words, as she recalled her life, were "T'was all a pleasure."
Think about them as you pass the little cemetery, tucked there between the tire store and Wal-Mart.
Until next week, all the best.
Joe Herring Jr. is a Kerrville native who thinks we trip over history every day in Kerrville. A small portion of his collection of historic Kerrville photographs is on display this month at Starbucks Coffee in Kerrville. This column originally appeared in the
Kerrville Daily Times
April 7, 2012