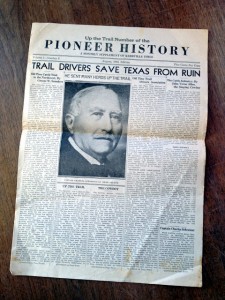 Thanks to the presto-magical properties of the Internet, you can download a
copy of this newspaper to read on your computer. For FREE.
Recently a neighbor brought by a copy of the August 1933 "Pioneer History" supplement to the Kerrville Times. This particular issue is about cattle drives and the cowboys who made them. I thought more than a few of you might want to read the whole issue, so I'm including a link to a downloadable PDF of the file.
Absolutely no strings attached. I just thought some of you might like to read this issue. Click here.
Thanks to our most favorite Kerrville historian, Joe Herring, Jr. for this post and link. To read the download, you'll need to have a copy of Adobe Acrobat Reader, which is free.