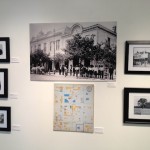 The following is my favorite Kerrville Historian (and printer) Joe Herring, Jr.'s latest post on his blog. I share it to encourage you to take advantage of this opportunity. Staff members of Sherman & Co. are excited about attending themselves, as well as letting any clients who come in from out of town know about it. ENJOY!
Thanks to
Lanza Teague
, Julius Neunhoffer, and other members of the
Kerr County Historical Commission
, the big show we've been working on for several months is now on display at the
Kerr Arts and Cultural Center
(the old Kerrville post office, 228 Earl Garrett Street) from today through August 5th.  Admission is FREE.  I hope you'll stop by and see the photographs and historical items.
Click on any image to enlarge