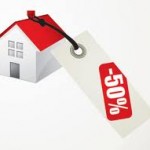 If home buyers or home owners are waiting for the housing market to hit bottom before acting, they may have already missed it. 
"The crash is over," Mark Zandi, chief economist for Moody's Analytics Inc., told Bloomberg about the real estate market. "Home sales—both new and existing—and housing starts are now off the bottom." 
Several economists are saying the bottom of the housing market has already been reached, and the market has been showing several signs of progress, including home prices stabilizing and demand increasing. The economists say they're optimistic about a recovery in the housing market, despite threats of a foreclosure wave coming. 
One of the biggest signs that a sustainable housing market recovery is taking shape: Consumer confidence is up. 
"Today's consumer confidence shows labor markets recovering and that confidence is going to allow consumers to go out and buy homes," Chris Rupkey, chief financial economist for Bank of Tokyo-Mitsubishi in New York, told Bloomberg. 
Indeed, real estate professionals have been reporting increased activity among home shoppers this spring, too. 
"This year's selling season is shaping up to be the strongest we've seen in years," says Margaret Kelly, RE/MAX's chief executive officer. "Although we don't expect home prices to rise in every market at the same rate, the worst is definitely behind us, and a slow, steady recovery is taking hold."
Source: "Housing Declared Bottoming in U.S.," Bloomberg News (April 25, 2012)