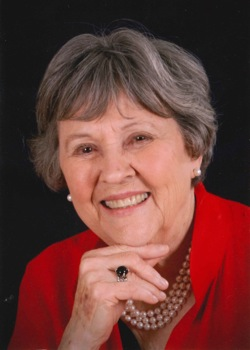 Peggy Morrow, GRI, CRS
Work:     830-257-7588
Fax:        830-896-7951
Cell:        830-370-9834
E-mail:
peggy@shermanco.com
Personal Profile: Peggy grew up in North Texas, Archer County.  She received a BS degree from MSU; later she lived in Denver where she worked on a Master in Business and attained an all-level teaching certificate from the University of Denver.

She, with her veterinarian husband and daughter, spent several months in New York City – a real change for the Texas girl!  Another move led them to the beautiful fox-hunting country in Pennsylvania and from there, back to Texas and the King Ranch.  In 1978 she and her family moved to Kerrville.

Peggy taught school briefly  (High School Business, 1st Grade and even Kindergarten) before staying home to be a Homemaker. Always enjoying learning, while in Kingsville, Peggy took "fun courses" at Texas A&I (now A&M): Photography, Tailoring, Marksmanship, Horticulture and Old Testament History.

Peggy attained her Realtor License in 1983.  She took the Dale Carnegie Course and became Graduate Assistant.  She has also secured the CRS and GRI Realtor designations.

Her Hobbies & Interests Include:

Playing "42" (dominoes) with friends

Apple Computer Classes

Family – Son & Daughter plus 5 Wonderful Grandchildren

Ten trips to Moldova (former Soviet Union country) to work with orphans

Mission Trips to Dominican Republic & Mexico

Mentoring: Started spending 1 hour weekly with first grade child and

they've continued together through middle school
Organizations & Memberships:National & Texas Association of Realtors

Kerrville Board of Realtors

Various Committees, KBOR

Kerr County Women's Chamber

Trinity Baptist Church – Served on committees,

Director of Sunday School Departments
Personal Note:
I love Kerrville!  How I appreciate the kindness and affirmation I've received from Buyers and Sellers.  This is a wonderful place to call home!  I entered Real Estate as a "lark" but grew to enjoy the profession:  Working with people, Researching the Market to Determine Value of a Property, Learning Negotiation Skills to Secure Best Price for My Clients, Plus the Challenge of Finalizing a Contract to SOLD.  Peggy can provide references to anyone wishing to Sell or Buy a home; she works "full-time", so just call her direct line or the office number.